Brand-new version 9.1 is here and it comes with many exciting features: create custom styles & apply them to your studies, get improved force volume visualizations, take your force curve analyses even further with new operators & more!
Scroll down to find out more about the new features available in this release:
Cross-technology features
Save & apply your favorite study styles
Create a custom style (background colors, palette, axis settings etc.) and choose to pass it on to further studies created in the document
Quickly copy/paste styles from one study (pseudo color view, manual measurements, 3D view etc.) to another
Choose to apply any style to all studies in the document
The possibilities are endless!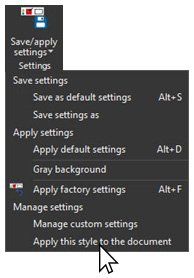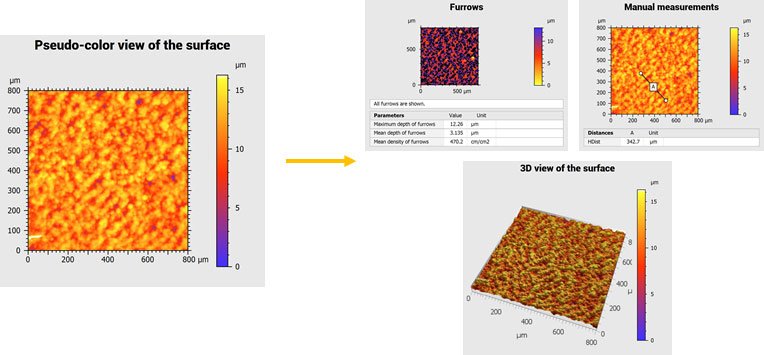 Extract multiple (custom) regions of interest
Extract multiple areas of different shape in the Extract area operator
Focus on the region(s) of interest the most important to you on your sample
Rectangular, circular and custom areas can be combined and modified
Define either areas to be extracted, or areas to be discarded from the extraction
Extracted areas can still be manipulated directly on the studiable in the document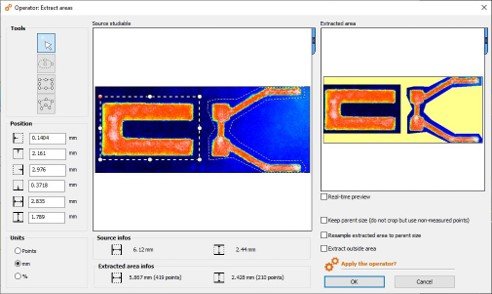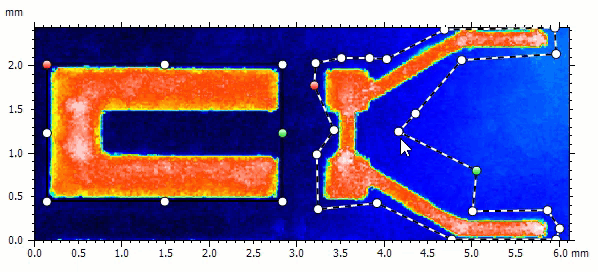 Even more resources to help you use Mountains®
Updated Reference Guide

More descriptions of features and improvements have been made available in English, German, French, and Japanese
The Mountains® Reference Guide now totals 500+ entries

Additional ready-to-use "templates" to help you learn

Follow detailed explanations on how to perform analyses
Substitute data used with your own data and get an instantly updated analysis document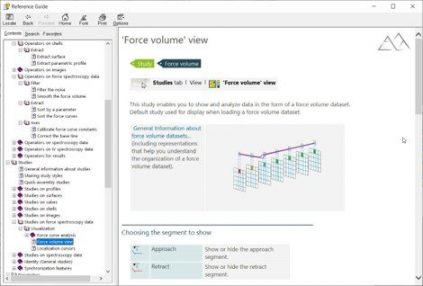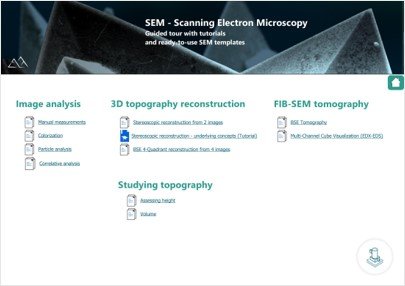 Left. The Mountains® Reference Guide now contains 500+ entries. Right. An index for each instrument technology gives access to a wide variety of resources: document "templates", video tutorials etc.
SPM/Force spectroscopy features
Force volume: improved visualization options
Display approach and retract segments as thumbnails in the Force volume view study to visualize force of all points at the same distance
Change the physical quantity (force, deflection in nm or in V) if the constants are known
Select any point in the force volume image and visualize the corresponding curve
Display coordinates of the curve and curve number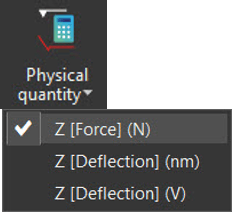 Choose physical quantity to show on Z axis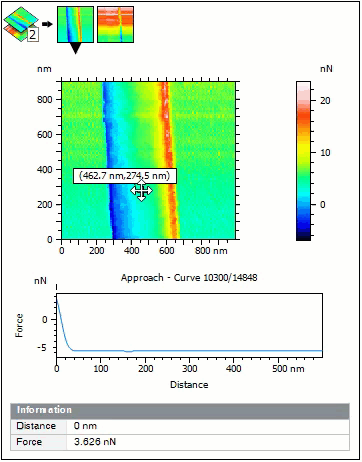 Select a point on Force Volume image and display corresponding force curve
Clean up your force curve data and get ready for analysis!
New Sort force curves operator: remove outliers or keep curves of interest according to their shape
Works on series of force curves and force volume datasets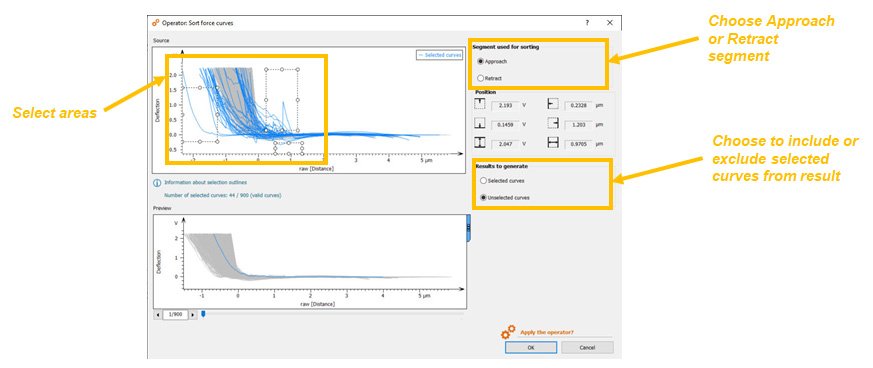 Exclude anomalies and outlying curves with the new "Sort force curves" Operator
Meaningful force curve analysis: select zones of interest
New Sort by a parameter operator: sort force curves according to a parameter (Young's modulus, adhesion energy etc….) for example to isolate different materials composing a sample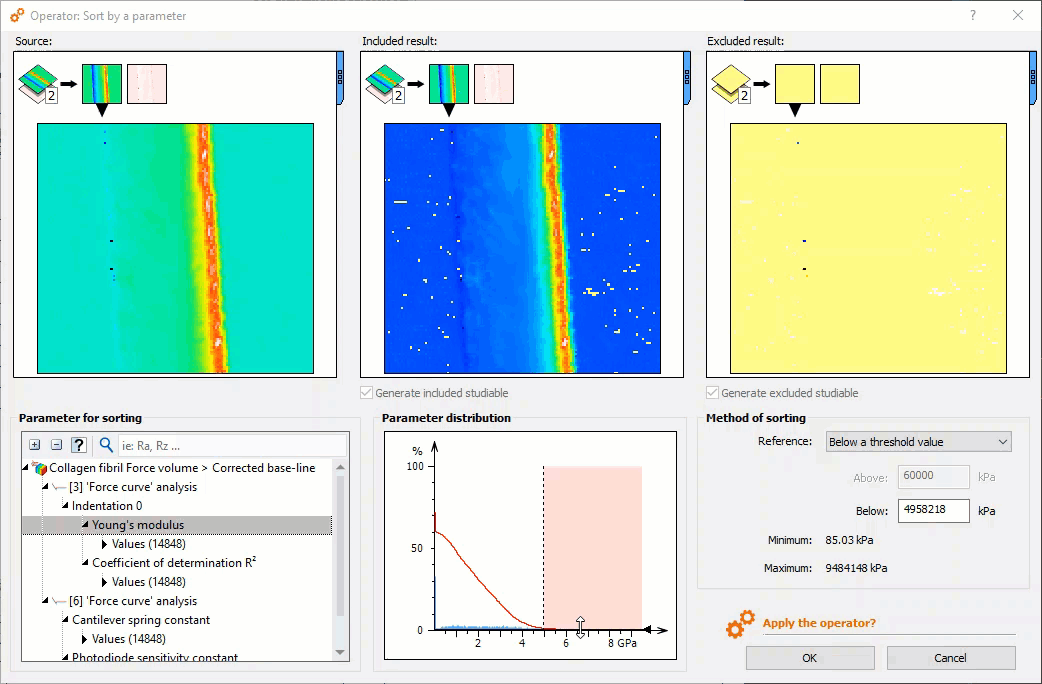 Selecting curves of interest using the histogram in the new "Sort by a parameter" Operator
Force curves: new features requested by users
Calculate energy parameters and generate parameter maps (for Dissipated energy, Adhesion energy, Total deformation energy etc.)
Fitting range: enhance indentation analysis by defining a custom fitting range on the separation axis
Enhanced baseline detection: access new base-line detection methods in the Correct the base-line operator: Remove form and Manual. Force curve base-lines (if defined) can now be displayed as horizontal bars.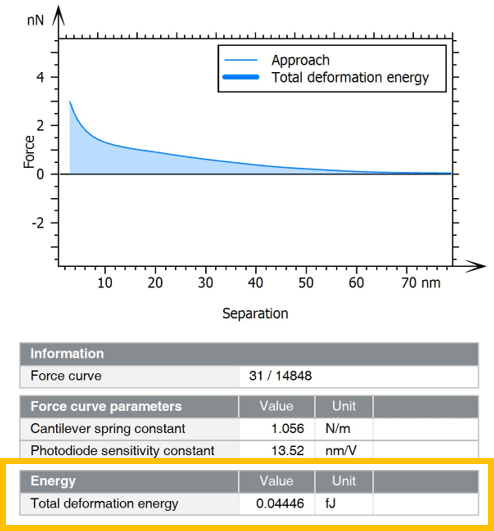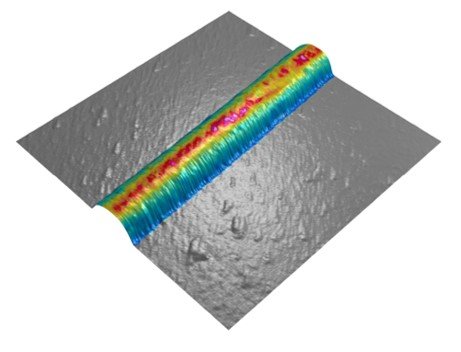 Left. Display Total deformation energy. Right. Overlay of Young's modulus on 3D topography.
Force curves: other new features
Manage non-measured curves in force volume datasets
Export and import force curves in text format
Display all force curves and envelopes in graphs
Display axis legends on all force curve graphs
General interface improvements for force curve and force volume data users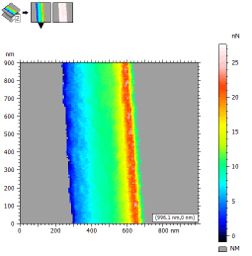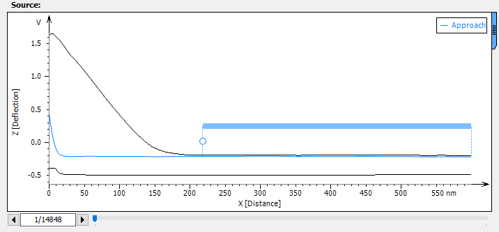 Left. Manage non-measured curves in force volume (here, in gray). Right. Display upper & lower envelopes (here, in black).
Profilometry features
Improved point cloud meshing & shell (freeform surface) remeshing
Mesh the point cloud operator: get a faster, more accurate result when meshing point cloud data
New Remesh options on Shells:

Homogenize triangle size using a defined edge length: a useful option when working with large datasets!
Optimize triangles with regard to local curvature (more triangles on texturized areas and less on flat areas)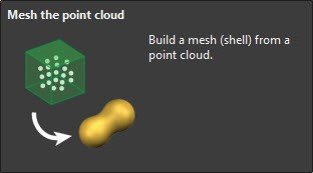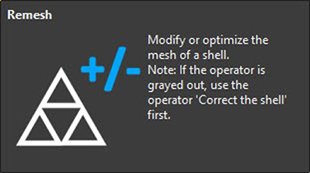 New Rotate operator on Point Clouds/Shells
Rotate Point Cloud and Shell studiables using the new Rotate operator
Perform rotation manually
Specify the angles around the XYZ axes
Or let the software automatically align the point cloud main axes to the XY horizontal plane: useful if you have a point cloud representing a flat object which has been measured at an angle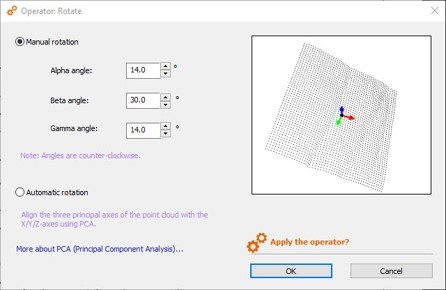 Visualize deviations used by parameters on Shells
Generate the deviations used for the calculation of surface texture parameters on Shell and visualize them as a 3D attribute
A useful option for visualizing the effect of the choice of reference in the "Selection of parameters" dialog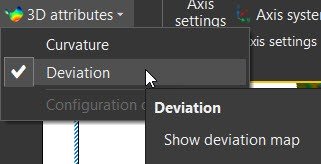 Spectral features
Load RGB images containing chemical data as multi-channel studiables
Generate a multi-channel image when opening chemical images in standard image formats

Multi-channel data: manage colors & legends
Attribute colors & names to multi-channel cubes and images
Dependent studies are automatically updated
Display legends in short or long form

SEM/Spectral features
Build spectacular 3D EDS/EDX Maps
See your SEM data like never before:

Quickly build a 3D model from 2 successive scans or 4 4-quadrant images
Overlay EDS/EDX Maps and choose how to display colors (mixed/unmixed)
Reveal correlations between topography & chemical composition

Use a single software package for this entire analysis sequence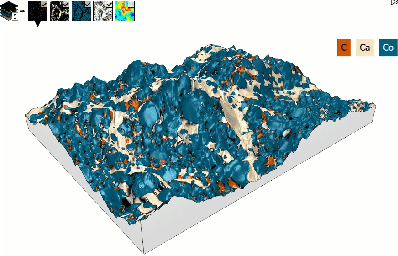 3D model of surface topography + chemical composition
Courtesy of Emmanuel Guilmeau, CRISMAT (Caen), Jean-Claude Ménard, JEOL France
Load FIB image series as cubes & segment
Easily load a series of images as slices of a FIB-SEM tomography cube and assemble:

grayscale images into a single-channel BSE cube
color images into a multi-channel cube (RGB colors interpreted as up to 3 EDX channels)

Resample if necessary
Use new color options and settings to visualize 3D particle segmentation (by material, by grain)

Cubes ⇒ images ⇒ profiles: from 3D to 2D to 1D chemical maps
Switch dimensions quickly & easily to extract relevant data from your sample!
Use Extract Slice tool to extract one of the voxel layers (2D) from a multi-channel cube (3D)
Use Extract Profile to perform a cross section (1D) of the extracted layer (2D)
Channel properties (colors, legend) are passed on from studiable to studiable during extractions

How to update
Access to this latest release is included in the Mountains® Software Maintenance Plan (SMP). Please visit our Software Updates page.
To find out more about SMP options, please contact sales@digitalsurf.com or visit this page.
Want to get a 30-day Free Trial?
Try Mountains®10 software for free