A brand new version of industry's favorite surface and image analysis software has just been released. This latest release sees the update of SmartFlows (formerly known as Minidocs), a key tool for automating data analysis, the enhancement of the ever-popular Particle Analysis tool and many new options for users analyzing spectra from techniques such as Raman or IR. Read on to find out more.
Cross-technology features
Correlation & spectroscopy features
SPM features
Profilometry features
Cross-technology features
Minidocs are now SmartFlows (and they make your analysis even faster)
What is a SmartFlow?
A SmartFlow (previously called Minidoc) is an analysis sequence that you can save and reapply to other datasets quickly and easily, saving you precious time.
It's batch analysis at its best, no need to write code, just select your favorite sequences and turn them into a SmartFlow in a few clicks.
Your SmartFlows will appear in the ribbon, allowing you to reapply them as quickly and easily as they were created.
What's new in 10.1?
Notable interface improvements and smoother usability: the SmartFlow interface has been reorganized and improved.
Batch processing: you can now apply SmartFlows to several studiables at the same time.
Particle Analysis tool enhanced
The popular Mountains® Particle Analysis tool allows users to detect and quantify structures of any size or shape in profilometry or microscopy data.
In version 10.1, further improvements have been made to make life even easier for users studying this kind of data.
Contextual ribbon has been reorganized

Direct access to choice of available detection and calculation channels

New method for choosing detection and calculation channels

Use thumbnails to easily visualize and select detection and calculation channels
Easily synchronize detection and calculation channels

Particle classification has been improved

Settings are grouped by parameter (tree structure), improving readability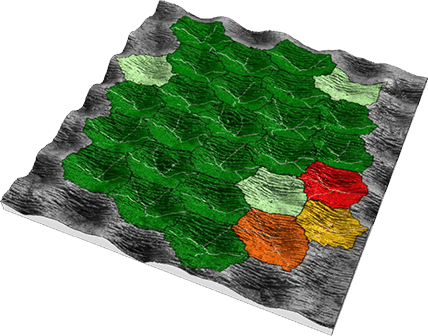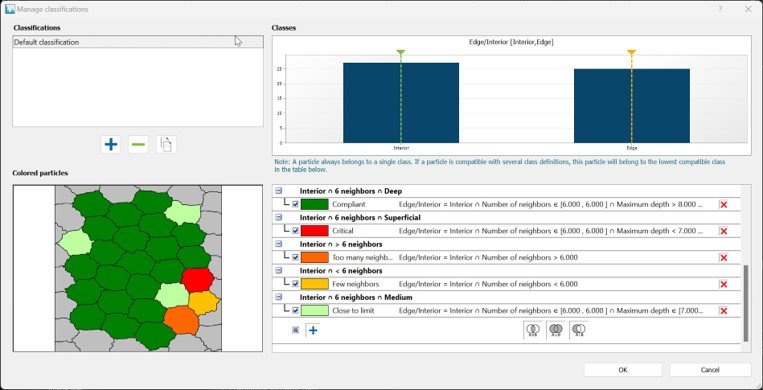 Free Trial: easier access to 30-day extension
30-day Free Trial extensions are now granted automatically (no more waiting for your request to be approved)
Easier access to help from sales and support during the Free Trial process
Support Center accessible via ribbon
The Digital Surf Support Center is now accessible directly via an icon in the Help tab
Users can submit a question, an incident, a suggestion or any other request

NB. Feature not available in custom partner products based on Mountains®.
Other improvements
All operator dialog boxes are now resizable: Mountains® saves the last size set and opens dialog in same size at next use
Table of results enhancements:

Choose information to display in the title (name of study, studiable etc.)
Display name of studiable in tables with results on several studiables
Choose to display parameters as abbreviations or with full names

Better visualization of settings via Photo image (realistic) submenu in operator dialog boxes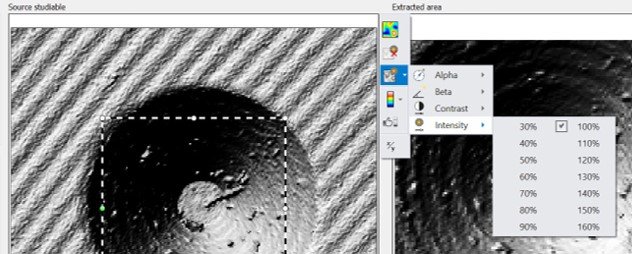 New submenu when selecting Photo image (realistic) rendering.
New features for correlation & spectroscopy
Better visualization of spectra
Better Z-axis management in hyperspectral image view: optimize visualization for current curve or for all curves or display spectra with a normalized scale
Cursor now more visible
Spectral images: replace non-measured points with zero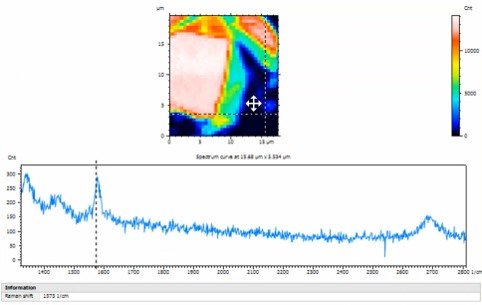 Many new options have been added to allow better visualization of spectra.
More tools for correcting spectra
The Correct the baseline operator has been improved, allowing automatic correction of spectra:
Anchor zones: use portions of spectra (polynomial form method)
Use a line or a second order polynomial
Offset the spectrum curve by setting its lowest point to zero (or the lowest point of a selection zone) or subtract a fixed offset value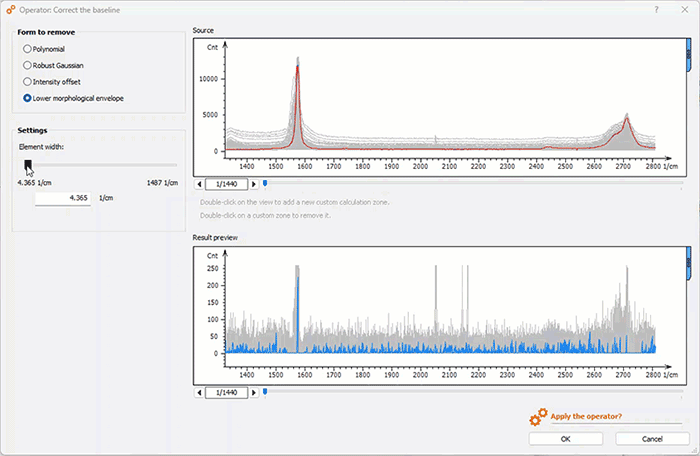 Correcting the baseline (in red) on Raman spectra using custom anchor zones
Remove spikes (cosmic rays) from spectra ensuring clean data before proceeding to analysis


Several methods are now available for removing spikes from spectral data.
Extract spectral regions of interest more easily
Extract non-rectangular (circular or custom) areas of hyperspectral images
Extract several zones at the same time
Apply Sort by a parameter operator to hyperspectral image and series of spectra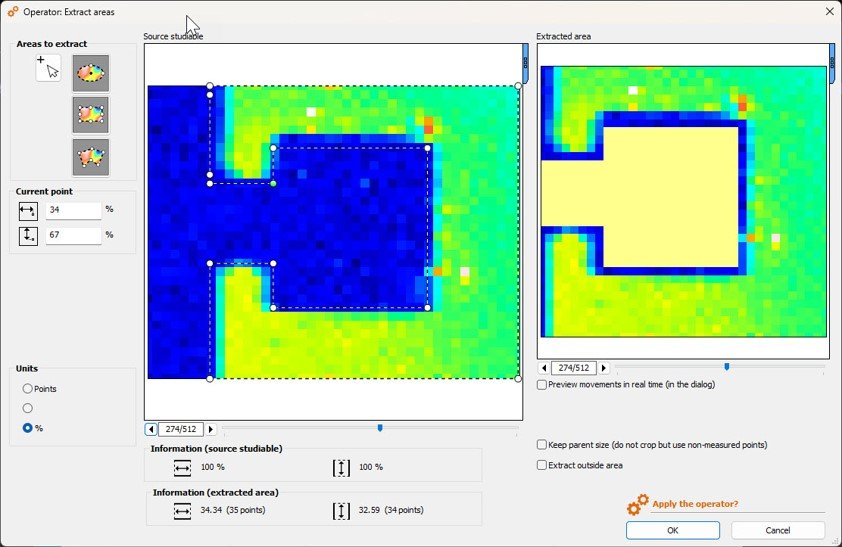 Extracting a non-rectangular region of interest
Alternative method for creating spectral maps from hyperspectral images
New Use spectral bands operator
Users can now create spectral maps from hyperspectral images using cursors to define spectral bands
This new operator replaces the Colorized band study
A multi-channel image can be generated as a result studiable allowing further analysis with many useful tools (correction, composite rendering, cube creation, etc.)


Create spectral maps by defining spectral bands and assigning them different colors
New ways of creating voxel cubes
Create a multi-channel cube

From several multi-channel images
From a series of surfaces
From several hyperspectral images or from spectral maps (Raman, EDS) acquired at different depths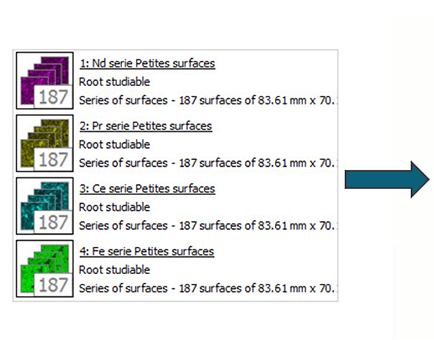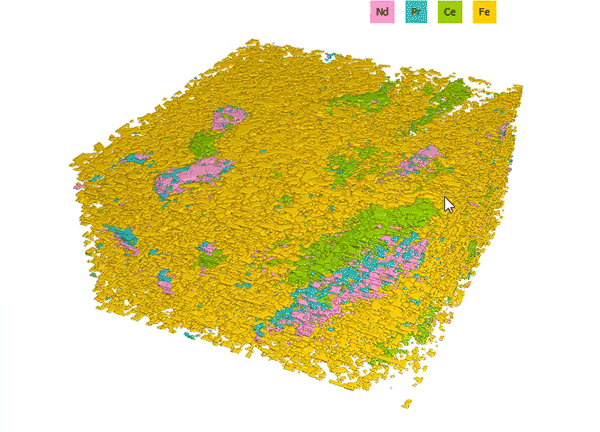 Creating a multi-channel cube from several series of EDS maps
New features for SPM
New FFT tool: filter line by line
New operator in FFT toolbox allows users to filter surfaces (or multi-channel images) profile by profile by removing wavelengths (1D FFT filtering)
Useful for reducing scanning noise due to mechanical vibrations or light pollution for example

New for force curve data: range indentation
New advanced manual method for indentation analysis
Choose fitting range based on force or separation (absolute or relative values)
Allows better fine-tuning when analyzing complex materials (viscoelastic, biological surfaces)

New features for Profilometry
Rk: updated parameters & default filter
Rk parameters previously existed in the old ISO 13565-2 standard. They now also feature in the new ISO 21920-2 standard, but under slightly different names, and with a different default filter (robust Gaussian). Mountains® 10.1 allows Rk to be calculated according to both standards.
NB. Mountains® will automatically suggest an update of documents created with previous versions.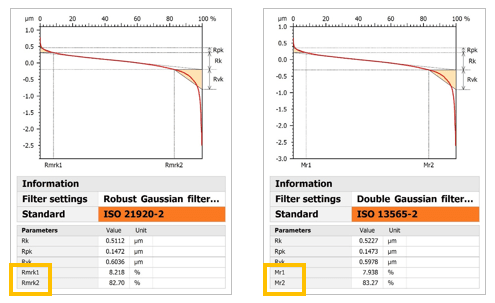 Renamed Rk parameters & default robust Gaussian filter from ISO 21920-2 (left)
Rk & Sk studies: impose scale range for Z
Users can now manage Z-axis settings in Rk and Sk studies
Facilitates comparison of several datasets

Impose Z-scale in Rk & Sk studies to compare samples more easily
More tools for series of profiles & surfaces
Remove form: save time when removing form from a series of profiles or surfaces, no need to extract each profile/surface!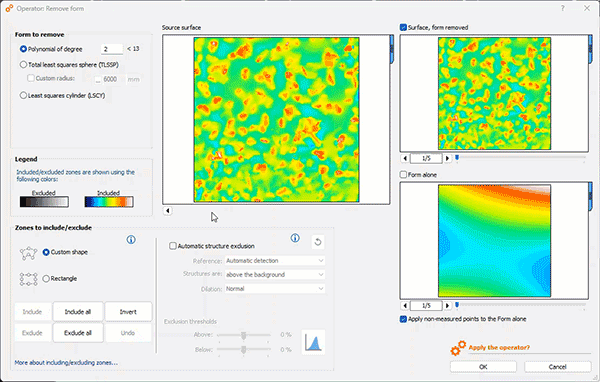 Removing form from a series of five surfaces in just one operation
Extract standard deviation from series of surfaces
Extract deviation from mean surface

On whole series
On individual surfaces in series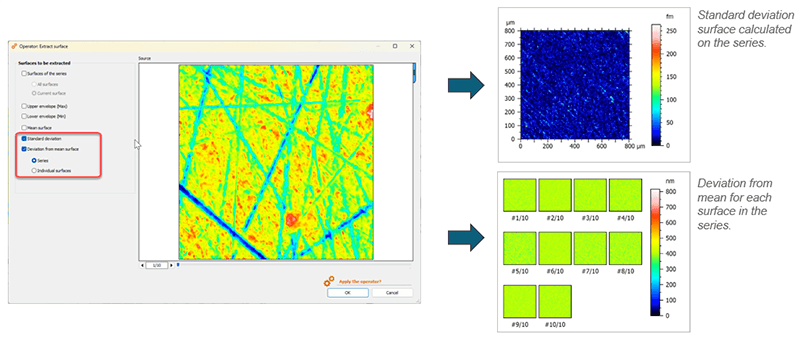 Volume parameters: automatic limits
Thresholds can now be calculated automatically (based on graphical Rk/Sk method)
Allows better adjustment of thresholds when automating profile or surface analysis or substituting a studiable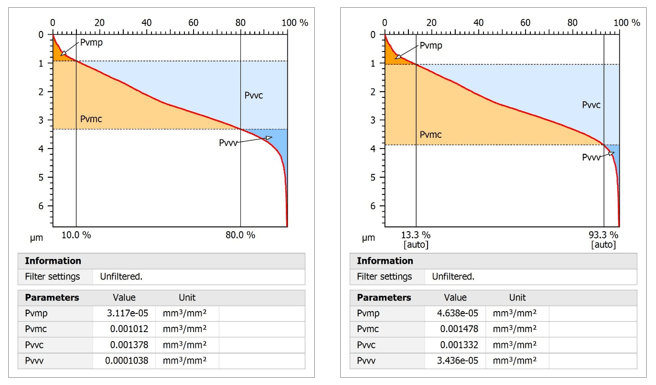 Using automatic threshold limits in the Volume parameters study (right) allows better adjustment when applied to other datasets
Result picker: new options in Parameter tables
Centralize filter type in order to apply simultaneously to several Parameter tables (to study the effects of filter type on numerical results)
Use a single template (rather than several templates with several different filters) and select the filter type after applying the template
Easier control of .mnt documents by ActiveX via acquisition software


Select a variable as a filter type in the Parameters table study
Learn more & update
Check the release notes for full details of the v10.1 release (available Nov 2023).
Access to this latest release is included in the Mountains® Software Maintenance Plan (SMP). Please visit our Software Updates page.
To find out more about SMP options, please contact sales@digitalsurf.com or visit this page.