The Fall season is synonymous with a new version release of Mountains® software. With many new and improved features, Mountains® 9.3 will be on show at the Materials Research Society Fall Meeting & Exhibit in Boston, USA from November 29. The updated version will also be available for download from mid-November. So what's included in the latest edit and what are the benefits of updating? Let's take a closer look.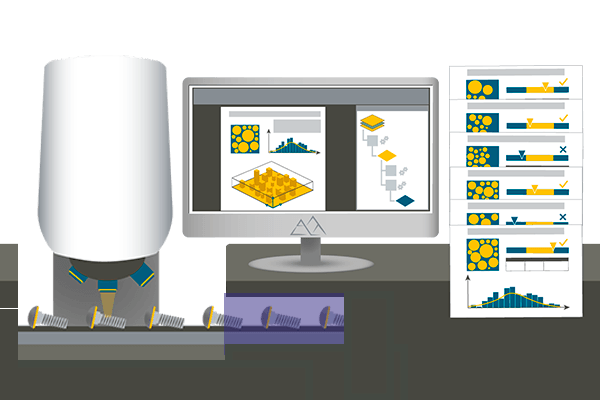 Above. Mountains® 9.3 automation features continue to improve efficiency of batch processing in an Industry 4.0 environment.
New features for all users
No instrument group is forgotten in the new version of Mountains® 9.3 which sees the power of core features of the software further strengthened. Never has it been easier to customize and automate data analysis processes, in particular in an Industry 4.0 environment.
Personalization of how data is displayed on loading can now be managed with new preference options.
Automation features have been boosted: users can operate Result pickers in Tolerance limits and Particle Analysis studies, access new options in Template mode and in multiple studiable substitution.
It is now possible to visualize individual values of series in statistical documents and use them all for calculations; users can also choose to display all individual values in aggregated series in control charts, histograms etc.
FFT-based analysis has been considerably improved with new filtering and thresholding tools for Surfaces and Profiles.
Positioning methods for those using Colocalization for correlative analysis have been simplified and made more intuitive.
A new Analysis Workflow hack allows users to further customize the display of this feature.
Features for scanning probe microscopy
For users working with SPM images featuring repeating patterns, the previously mentioned improvements to FFT-based analysis now allow accurate fine-tuning of unit cell size and geometry with the "Adjust unit cell" tool.
Stiffness Analysis is just one of the latest tools available to users working with force curve data. Mountains® is now also capable of converting force volume datasets into series of force curves to allow data comparison.
IV curve analysis has been improved with the addition of multi-signal view, useful for comparing curves simultaneously. What's more, signals can now be displayed with a common Z-scale.

Above. Fine-tune lattice detection using FFT peaks in Scanning Probe Microscopy images.
Features for scanning electron microscopy
Tools for Fiber analysis make their debut in Mountains® 9.3 (feature available January 2023). The scanning electron microscope (SEM) is the instrument used by most scientists to image fibers whether they be man-made or natural.
Mountains® users can now automatically analyze fiber morphology in SEM and optical microscopy images, including fiber diameter and fiber direction. Many display options are available.
Read more on Fiber Analysis
Other new features for SEM users include the extension of 4-image reconstruction to images containing objects on a flat background (useful in semiconductors, MEMS analysis etc.) and faster loading times of FIB image series as cubes.
Features for correlation & spectroscopy
Hyperspectral image visualization has been enhanced: users can now select any point in the image and visualize the corresponding curve.
Spectral analysis also sees the arrival of new operators allowing the normalization of spectra in order to equalize the importance of different curves. Hyperspectral images can now be converted into series of spectra.
New features have been added for spectral maps creation including the ability to quantify composition of samples based on reference spectra (components previously extracted from data).
Features for profilometry including shells
Mountains® users requested it, version 9.3 delivers: the Slices analysis feature has been augmented with metric units and a new developed area parameter.
Those working with series of profiles can now display all or several profiles in grid view.
Regarding features for Shells (freeform surfaces), Mountains® 9.3 continues to build on the existing toolset. Cylinders can now be unfolded into flat shells to allow surface characterization (see below). Further options have also been added for Shells containing color data.

Read more & update
Check www.digitalsurf.com for full details of the 9.3 release (available mid-Nov 2022).
Access to the new version is free for users with an active Mountains® Software Maintenance Plan. To find out more about your Maintenance options, please contact sales@digitalsurf.com