The ISO 13565 series of standards are specially aimed at characterizing stratified surface texture produced by a two-step manufacturing process such as honing-polishing machining.
An automotive manufacturer used Mountains® to study parameters associated with wear and lubrication.
Mountains® tools used
The "Filtered profiles" study was used to display the roughness curve (the raw and waviness profiles can be shown as well).

The "Rk parameters" study was used to visualize the way ISO 13565-2 (or DIN 4776) parameters (also called functional parameters or Bearing Ratio parameters) are calculated from the Abbott curve.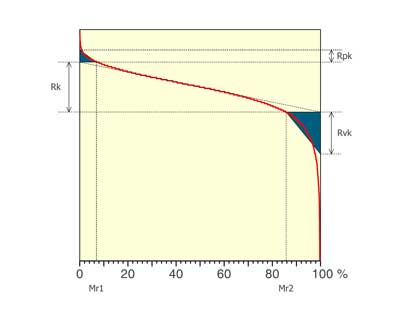 The graphical study shows the Abbott-Firestone curve and the following parameters:
| | |
| --- | --- |
| Rk | Kernel roughness (roughness depth of the core) |
| Rpk | Reduced peak height (roughness depth of the peaks) |
| Rvk | Reduced valley depth (roughness of the valleys) |
| MR1 | Upper material ratio |
| MR2 | Lower material ratio |
| A1 | Upper area (area of the upper triangle equivalent to the peaks) |
| A2 | Lower area (area of lower triangle equivalent to the holes) |
Instrument & software used
2D profilometer + MountainsMap® Profile software