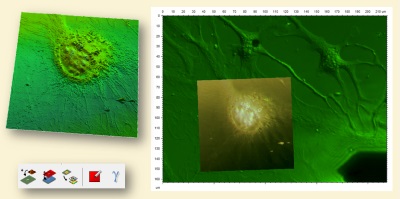 ⇒ Combine surface and image data from a single instrument or different instrument types including 3D optical profilers, atomic force microscopes, scanning tunneling microscopes, scanning electron microscopes, fluorescence, Raman, IR, EDX/EDS etc.
⇒ Generate dynamic images or extract a dataset from the results of your colocalization.
⇒ Overlay images on 3D surface topography – view 3D overlays at any zoom level and angle.*
⇒ Convert color and grayscale images into 3D colored pseudo-surfaces (Z-axis in intensity units).*
⇒ Use colocalization with multi-channel data. For example, AFM data comprising numerous signals (height, phase etc.) can be overlaid with data measured using another instrument type (scanning electron microscopy, spectroscopy etc.)*
*Depends on main product purchased.
Learn more: www.digitalsurf.com/video-tutorials/how-to-perform-correlative-analysis-with-data-from-multiple-techniques-with-mountains
Included in:
MountainsSPIP® Premium
MountainsSEM® Expert
MountainsSEM® Premium
MountainsSpectral® Correlate
MountainsSpectral® Expert
MountainsSpectral® Premium
MountainsLab® Expert
MountainsLab® Premium
Available as an option with:
MountainsMap® Imaging Topography
MountainsMap® Expert
MountainsMap® Premium
MountainsSPIP® Starter
MountainsSPIP® Expert