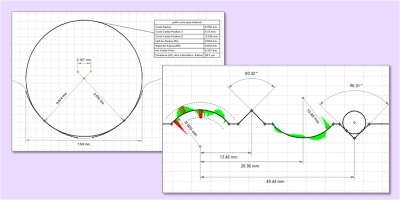 ⇒ Use auto-dimensioning tools to analyze the dimensions of profiles measured on component surfaces – lines, arcs, circles and angles between intersecting tangents.
⇒ Compare profiles with CAD data in DXF format or user-defined nominal form

⇒ Automatic generation of tables of results with data export – export results in Excel-compatible format for quality management systems.
⇒ Graphical display of form deviations – out-of-tolerance deviations are highlighted visually
⇒ Advanced functions – process profiles with variable dimensions – Gothic Arch analysis etc.
Included in:
Available with:
MountainsMap® Profile
MountainsMap® Topography
MountainsMap® Imaging Topography
MountainsMap® Expert
MountainsMap® Premium
MountainsSPIP® Premium
MountainsImage® Expert
MountainsImage® Premium
MountainsLab® Expert