Before you begin, please:
Make sure you have Administrator rights.
Make sure you have internet access.
Check with your IT manager that the Firewall is configured to allow incoming and outgoing TCP connections on port 1947 and 443 on your computer.
Download and install the version 8 software installation files by clicking on the link below:
Full installation file (64-bit)

Mountains8.zip

ZIP, 399 MB. Available only to registered users with a username and password. Requires the installation code in the email you received or on product packaging. Suitable for any new installation.
2. Please complete the following dialog:
Click on [Send the request].
3. The following email verification dialog will be displayed: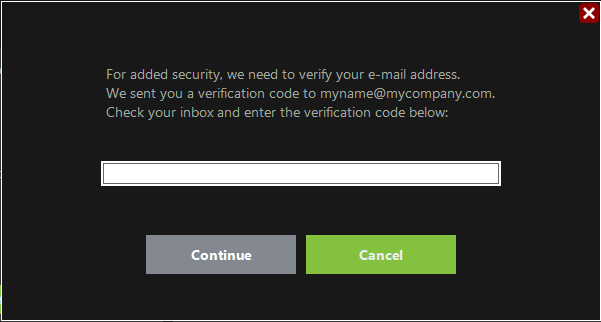 Please check your email and copy/paste the verification code received into the appropriate field and click on [Continue].
You will see the following dialog:

You will also receive an email summarizing your request.
4. Once your request has been processed by Digital Surf, you will be informed by email.
You will see the following dialog:

Click on OK.
Your Mountains®-based software product will be launched in version 8.